Families pay tribute to Nancy Glen fishermen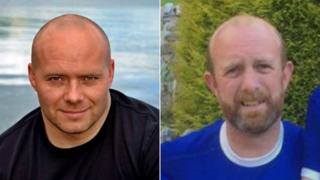 The families of two men, whose bodies were recovered from fishing boat the Nancy Glen, have paid tribute to them.
The vessel sank in Loch Fyne on 18 January. It was brought to the surface last week, after the Scottish government contracted salvage experts.
Przemek Krawczyk, 38, and Duncan MacDougall, 46, were on board when the boat went down.
Their families also thanked all those who helped in the efforts to salvage the boat.
It was confirmed at the weekend that two bodies recovered from the raised boat were the missing fishermen.
In a statement released through the Clyde Fishermen's Association, the families spoke of their deep sense of loss following the tragedy.
The MacDougall family said they wished to thank everyone who helped bring the men "back home to rest".
They also thanked the local community of Tarbert and the many communities nationally and internationally who have proved to be "a tower of strength at this difficult time".
Mr Krawczyk's wife Gosia said: "It has been the longest, saddest and most traumatic 12 weeks of our lives. I have lost my husband, my love, my best friend and my children have lost their amazing father.
"He was everything to us and he has left a space no-one can ever fill."
Mrs Krawczyk also thanked those involved in the salvage operation and those who have provided support and prayers over the past three months.
She added: "There are no words we could return which would express our gratitude."
A major search was launched by police and coastguard teams after the boat sank in January.
The alarm was raised by a third fisherman who was pulled from the water by the crew of a passing boat.
A specialist lifting barge brought the vessel to the surface last week.