Murder accused 'read weird stuff about child killers'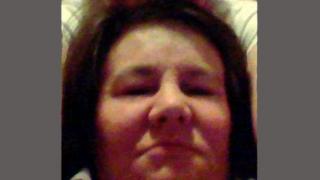 A woman accused of murdering her mother read "weird stuff" about child killers, a jury has heard.
Shayla Greenop, 20, also searched online for "what a dead body smells like".
Ms Greenop is accused of killing Sharon Greenop along with the 46 year-old's sister Lynnette Greenop, 40, at their home in Troon, South Ayrshire.
It is claimed Sharon Greenop was assaulted on various occasions between 8 September and 10 November 2016.
Marie Doran told the High Court in Glasgow how she was involved in a young carers group in Ayrshire that Shayla Greenop regularly attended.
The court has heard how her mother Sharon was registered disabled following an accident and needed looked after.
The jury heard claims Shayla Greenop liked "reading weird stuff".
'Fringes of society'
Ms Doran said: "She is quite an inquisitive person and into her music. It is not my taste, but is Shayla's."
Lynnette Greenop's QC Frances McMenamin asked the witness to give an example of what she believed was weird.
Ms Doran replied: "Just about child killers, really."
She then recalled how she spoke with Shayla Greenop after Sharon's dead body was found in November 2016.
The trial heard Shayla Greenop chatted with the support worker having earlier given police her phone.
Her QC Mark Stewart put it to the witness: "She asked you about the research facility on phones.
"In relation to that, she explained to you that one of the searches she looked for was, What does a dead body smell like?"
Ms Doran replied: "Yes."
Shayla Greenop was then said to have told Ms Doran about a conversation she had with her aunt Lynnette.
She had apparently spoken to her about a smell, but was told "not to worry" as Sharon had a toilet accident.
'Researched a lot'
Mr Stewart also said Shayla Greenop was part of a young "sub culture" known as emos, who have an interest in people "on the fringes of society".
The QC gave the example of singer Marilyn Manson.
Mr Stewart asked Ms Doran: "It can be, as you put it, a bit weird?"
She replied: "Yes, but that is what makes people unique."
The lawyer added Shayla Greenop also appeared to be someone who "read a lot" and "researched a lot". Ms Doran agreed.
The murder charge alleges Sharon was repeatedly struck with "object or objects" and had her neck compressed.
It is said injuries were also inflicted "by means unknown" and that there was a failure to obtain medical help.
Sharon is stated to have been so severely hurt that she died.
The two accused, who both live in Ayr, deny all charges.
The trial, before Lady Carmichael, continues.