Pilot who supplied resistance in WWII still flying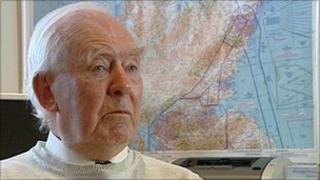 A pilot who flew missions to supply resistance fighters across Europe in World War II is still flying at the age of 88.
Don MacColl, originally from Glasgow and now living in the Highlands, flies a Piper PA-38 out of Inverness Airport.
He volunteered for the RAF in 1941 in the hope of becoming a fighter pilot.
However, he was asked to convert to bombers and flew Halifax aircraft on operations bringing arms to resistance fighters and partisans.
Mr MacColl told BBC Alba's Teàrlach Quinnell that it was every new air force recruit's ambition to fly Spitfires.
The single-seat fighter aircraft featured prominently during the Battle of Britain.
He said: "Everyone wanted to be a fighter pilot.
"I suppose you wanted to be dashing and appeal to the girls better."
Following training, Mr MacColl converted to flying bombers.
He went on to be stationed in southern Italy, supplying arms to resistance fighters and occasionally dropping Special Operations Executive (SOE) agents.
Mr MacColl said: "The operating area was large because there were resistance fighters and partisans all over the place.
"Our flights took us down to Crete, to Greece, Albania and a lot of operations in Yugoslavia."
Mr MacColl also made 10-hour flights to Poland.
After the war, he continued to fly, first with a charter company then later for an oil company working in Iraq and Syria.
He then went to work for communications and manufacturing company Marconi until he retired.
Mr MacColl gave up his private pilot's licence when he was 60, but took up flying again when his wife died.
His flights take him over the west Highlands.
He said: "When one's retired one has lots of time to read, mow the lawn, and fly."