Man stole dying sister's funeral fund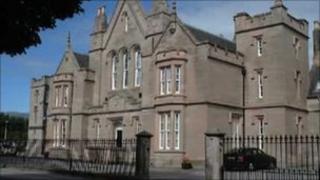 A man stole a fund set up to pay for his terminally ill sister's funeral and fled to Northern Ireland on the day she died, a court has heard.
Jason Spence, 35, from Strathpeffer in the Highlands, took more than £1,000 from the family home. He was later arrested in Belfast.
At Dingwall Sheriff Court, Sheriff Alastair MacFadyen told Spence: "What you did was despicable."
He was placed on probation for two years and ordered to do community work.
The court heard that Spence's mother had cared for his sister at the family home before she was taken to Raigmore Hospital in Inverness.
Spence had stayed at home while other members of his family had been at his sister's bedside on 21 August, the day she died.
The court heard how he had turned up at a relative's home and said he was going to Ireland to avoid a child custody hearing following the break-up of a relationship.
Spence used some of the money to travel to Inverness, Edinburgh and Stranraer, where he took a ferry to Ireland with his young son.
'Emotional meltdown'
When police arrested him in Belfast he said: "I feel absolutely horrendous. I can't believe I've done it. I'm so ashamed."
Defence lawyer Iain Innes told the court his client still felt ashamed.
He added that Spence's mother had no difficulty in allowing him to return home and felt he had been suffering an "emotional meltdown".
Mr Innes said: "He appreciates and acknowledges the seriousness of what he did. He has been under a considerable amount of pressure."
Spence was placed on probation and ordered to carry out 180 hours of community service.