Remote community in west Highlands uses eco quad bike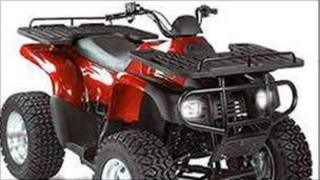 An electric quad bike that is recharged using power from a hydro scheme is being used by a community in one of the remotest areas of Scotland.
Knoydart in the west Highlands is not connected to the National Grid or national roads network.
The community-run Knoydart Foundation has been using the quad and its trailer for other "green" projects.
They include collecting horse manure for a wormery composter and visiting an eco-friendly campsite.
Knoydart's electric quad, community garden and energy projects are part of the Community Powerdown Initiative, a Scotland-wide scheme backed by the Climate Challenge Fund.
The foundation is one of 25 communities in a consortium working together on carbon reduction projects and nominated for an honour in the forthcoming Scottish Green Awards.
'Real hassle'
Gwen Barrell, Knoydart Powerdown officer, said the quad overcomes problems getting fossil fuel to the area.
She said: "We've wanted to trial an electric vehicle for some time.
"It's a real hassle bringing fuel into Knoydart - particularly petrol - and given that we have surplus electricity from our own hydro scheme it made perfect sense to look at electric vehicles. The electric quad is already proving to be leaner, greener, cheaper and easier."
The project officer added: "The rough tracks and hilliness of the area make most standard vehicles a bit of a non starter here and as most electric vehicles are designed for city use they wouldn't last five minutes on our tracks.
"So looking at an electric quad seemed a good place to start - handy for jobs which you can't do on a push bike or on foot, but designed for more rugged terrain."
Ranger Tommy McManmon uses the bike to visit Knoydart's eco-campsite where people can camp on an area of beach where facilities include a compost toilet.
He said: "Campers were fascinated to see the vehicle in action, and doubly impressed when they realised that all the electricity which charges it comes from a hydro source."