Man jailed for 'sex abuse campaign' in Ross-shire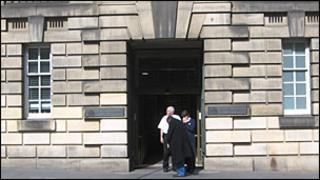 A man who "conducted a campaign of sexual exploitation of young girls" in Ross-shire over two decades has been jailed for 12 years.
William Burns, 67, of Muir of Ord, had earlier pled guilty to a series of charges, spanning 1988 to 2010.
The abuse was brought to an end by his arrest on the eve of his 67th birthday.
Burns' nephew, Donald Burns, 43, pled guilty at Dingwall Sheriff Court in the summer to having underage sex with a girl. He was jailed for 16 months.
At the High Court in Edinburgh, judge Lord Turnbull said: "You predominantly targeted girls in their early teens and one of your victims was only 11 years old when your abuse of her commenced.
"Your conduct was callous and calculated and you went to considerable lengths to ingratiate yourself into the company of young girls, mostly targeting those who were vulnerable in one fashion or another."
The judge added: "You advanced your interests by supplying the girls with cigarettes, alcohol and cannabis and it is difficult to think of any worse manner of conduct on the part of an adult directed at children."
In his sentencing statement, which has been published online, Lord Turnbull said Burns would have been jailed for 16 years if he had not pled guilty.
Charges included indecency, breach of the peace, indecent assault and allowing other men to use his home for sex with underage girls.
Andrew Laing, area procurator fiscal for the Highlands and Islands, said bringing Burns to court followed a complex investigation.
'Difficult circumstances'
Mr Laing said he had been sentenced for "a series of appalling sexual crimes".
Police have also welcomed the sentence.
Insp Pamela Ross, of the public protection unit in Dingwall, said: "These were despicable crimes committed against a number of girls and young women over a considerable number of years."
The officer said she hoped the sentence would give confidence to any victims who have been affected by similar experiences to come forward.
She added: "I also wish to commend the staff involved in this investigation, which was carried out over a number of months.
"They often require to deal with very difficult circumstances involving the abuse of children and adults and their professionalism and commitment to this investigation has helped bring this case to a successful conclusion."