Knives out over north Harris rhubarb grumble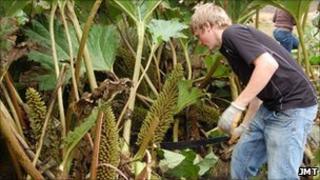 Giant rhubarb has grown out of control and threatened wild plants in parts of Harris in the Western Isles, conservationists have said.
The problem with the non-native, invasive species Gunnera tinctoria has got so bad volunteers are using machetes in an effort to eradicate it.
The community-run North Harris Trust and landscape charity the John Muir Trust (JMT) are tackling the plant.
Pockets of rhubarb "jungle" have grown on the outskirts of Tarbert, said JMT.
'Tipping point'
North Harris Trust ranger Robin Reid is co-ordinating the eradication project.
He said: "This is an incredibly invasive species. It takes over ground completely by outcompeting native plants.
"Alongside climate change and habitat loss, non-native species like Gunnera are one of the biggest threats to biodiversity."
The ranger added: "I think we are at a tipping point. If we don't do something now it will quickly become impossible to clear."
Volunteers have so far collected a skip full of rhubarb pods, representing more than 100 million seeds, which will be turned into compost.