Mixed fortunes at Scotland's Housing Expo site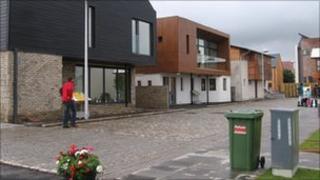 Sales of properties at the site of Scotland's Housing Expo have been mixed almost five months after the event finished in August last year.
Albyn Housing Society said it had sold 10 of its 11 homes at Balvonie Braes in Inverness.
The organisation added that there was interest from someone in its remaining property.
Highland Housing Alliance (HHA), one of the expo organisers, has still to sell all of its 27 homes.
However, there have been more than 60 notes of interest in the HHA properties, some of which have still to be served with completion certificates.
The event, showcasing eco-friendly and energy efficient designs, was held during the whole of August.
Backed by Highland Council and the Scottish government, the expo attracted 30,000 visitors.