Housing expo 'ghost town' resident loves her new flat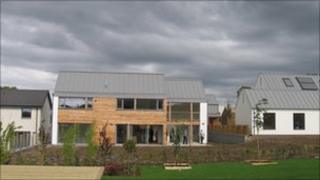 One of the first people to move into a home on the site of Scotland's Housing Expo has said it initially felt like she was living in a ghost town.
Lisa Meikle, 28, owns one of the affordable properties built for the showcase of innovative housing held last year in Inverness.
Moving in before Christmas, she was one of a few living on the development of 52 new homes.
Ms Meikle said she was delighted with her one-bedroom flat.
It sits within the Lios Gorm flatted accommodation designed by David Baikie Architects and sold by Albyn Housing.
Ms Meikle, who works for a construction company, said: "When I first moved in there was only me and three other people.
"It was quite quiet and was like living in a ghost town, but a few more people have now moved into the development.
"Parts of the development are still a building site but it will look good once it is all finished off."
Ms Meikle said she had been on a waiting list for an affordable property for four years.
She said: "I was hoping to be offered something on the expo site, but didn't think many flats would be available.
"It is absolutely perfect.
"I have my own door and a garden, which you wouldn't normally get with a flat."
Sales of the 52 properties at the site have been mixed. Earlier this month, Albyn Housing Society said it had sold 10 of its 11 homes.
The organisation added that there was interest from someone in its remaining property.
Highland Housing Alliance (HHA), one of the expo organisers, had still to sell all of its 27 homes.
However, there had been more than 60 notes of interest in the HHA properties, some of which had still to be served with completion certificates.
Figures released by Highland Council on Friday showed August's exhibition of the energy-efficient homes made an operating loss of £514,000.
Almost £651,000 was spent on expo, but ticket sales amounted to £137,000.
Highland Council contributed £263,000 towards the event and Highlands and Islands Enterprise £70,000.
However, the new figures also showed the expo led to £457,000 being spent in the local economy.
Also, the organisation and running of the project supported 28 full-time jobs with related earnings income of £543,000.
Construction activity on the site supported 240 jobs, 14 apprenticeships and generated £5.8m in associated direct income and spend during the building phase, the figures said.