Axed RAF Kinloss to play part in Exercise Joint Warrior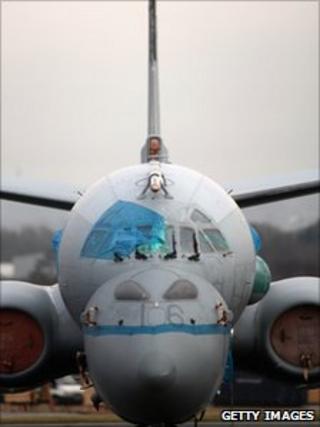 An RAF station will play a role in a major UK-led Nato training exercise before it closes later this year.
RAF Kinloss is no longer required as a main operating base following the cancellation and scrapping of the new Nimrod MRA4.
The Moray airfield will close on 31 July.
The Ministry of Defence (MoD) has confirmed that Kinloss will host Nato personnel and aircraft during next month's Exercise Joint Warrior.
Considered to be the biggest military training exercise staged in Europe, the first of this year's two Joint Warriors will run from 28 March to 8 April.
It has been confirmed that Kinloss will feature in this exercise.
An MoD spokesperson told BBC Scotland news online: "Exercise Joint Warrior is a UK-wide, tri-service exercise which is intended to provide opportunities for training all war fighting disciplines.
"RAF Kinloss will be taking part and hosting assets from partner nations.
"It would be inappropriate to comment on the capabilities and assets of other nations."
In previous years, large-scale training involving aircraft, warships and ground troops has taken place across the UK - particularly in the Highlands and Islands.
Kinloss and neighbouring station RAF Lossiemouth - itself the subject of a high profile campaign to save it from closure - have played key roles.
Kinloss's Nimrod surveillance aircraft were retired last summer.
Later last year, the UK government announced the station would close and in January this year work began on scrapping the new Nimrod MRA4s which had previously been expected to be flown out of Kinloss.
Exercise Joint Warrior is held twice a year, in spring and again in autumn.
During the second of the exercises of 2010, maritime aircraft from the US, Canada and Norway flew out of Kinloss.
Crews of P3 and Aurora patrol planes trained in anti-submarine, intelligence, surveillance and reconnaissance techniques off the west coast of Scotland and the Western Isles.