Twists in RAF Tornado air and ground crew fortunes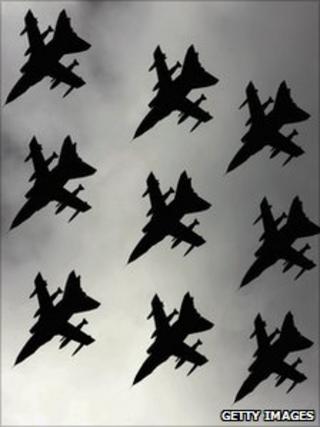 The emergency landing at RAF Lossiemouth is the latest twist in the fortunes of those who fly and service the Tornado.
The incident came 15 days after a crew ejected to safety as their jet went into the sea off the west Highlands.
But the past three months has also seen the release of two reports into near-misses involving the aircraft.
It comes as the New Year honours reflect the high praise for ground crew who work on the jets at Lossiemouth.
The military are still searching for the wreckage of the Tornado that went down over the Minch on 27 January.
The Ministry of Defence (MoD) has also confirmed an investigation into the cause of that crash was ongoing.
It has now launched inquiries into the latest incident.
A few weeks before January's crash, a Civil Aviation Authority (CAA) report detailed how two Tornado jets had narrowly missed each other over the Scottish Borders.
The incident happened in September 2010 near Galashiels when the aircraft were engaged in low-level training runs - travelling at more than 500mph (800km/h).
The CAA classed the incident as a Category A - just one step down from a mid-air collision.
Its investigation found the second Tornado had come into the area just outside its allotted time.
'Purely fortuitous'
In December last year, an air safety body said two jets avoided crashing head-on over the Highlands by "pure luck".
The Tornado GR4s passed within 50ft of each other near Roybridge, in Lochaber, on 11 June 2010.
The UK Airprox Board said neither crew spotted the other jet and the distance separating the aircraft was "purely fortuitous".
One of the crews reported that avoiding action would not have been possible.
The release of the reports and the two latest incidents have occurred during a high-profile campaign to keep RAF Lossiemouth safe from defence cuts.
Also, they have come at a time when the skills of staff at the station have been recognised at top levels.
Cpl Karen Edwards, who works in the Tornado gun bay, was made an MBE in the New Year Honours because of her "inspired contribution" to her squadron.
The Tornado Engineering Flight at RAF Lossiemouth received a team commendation from their commander-in-chief for their work that ensured the excellent serviceability of the Tornadoes deployed to Afghanistan.