Mussel eradication scheme starts in Loch Etive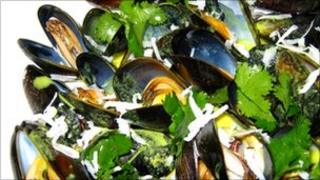 Mussel production in a Highlands sea loch has been suspended for at least a year in an effort to eradicate a foreign species of the shellfish.
Ropes on which mussels grow in Loch Etive are being hauled to the surface to kill off the creatures.
Shellfish farmers had noticed an increase in a new species which has softer shells and was less inclined to fatten up than native mussels.
Loch Etive could remain fallow spring next year.
Walter Spiers, a member of the Association of Scottish Shellfish Growers, said the foreign species was edible.
However, he said the soft shells were easily damaged by equipment used to grade the size of the shellfish mechanically and they also failed to retain water as well as harder shelled native mussels.
'Nearest population'
Mr Spiers, who is also managing director of Muckairn Mussels which is taking the action, added that it was mystery how the foreign shellfish had arrived in Loch Etive.
He said: "There are quite a few theories.
"The nearest population is in the Baltic. The DNA is not the same, but they are the same species.
"The next nearest population is in Canada, but again they don't share an identical DNA."
Funding from the European Commission is supporting the eradication.