Axed RAF Kinloss to host Joint Warrior air crews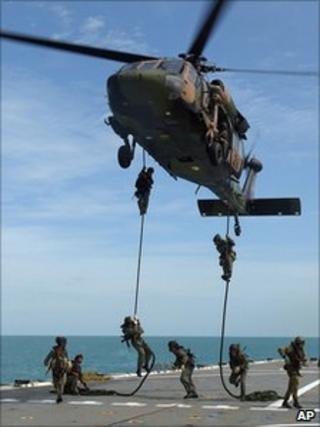 US, Canadian and French maritime patrol aircraft are to fly from a Moray RAF station before it shuts as part of defence cuts.
RAF Kinloss served as a base for Nimrod reconnaissance jets before its fleet was retired and the aircraft due to replace them were scrapped.
The RAF have confirmed the station's key role in hosting UK and Nato air crews during Joint Warrior in April.
P3, Atlantique and Aurora patrol aircraft will fly out of Kinloss.
The planes serve a similar role to that of the Nimrods which flew from the Moray station.
Six US F15 jets from RAF Lakenheath, three Blackhawk helicopters along with Falcon and Hawk jets will also operate from Kinloss.
In a statement, RAF Kinloss station commander Group Captain James Johnston said he and staff were proud to be hosting the overseas air forces.
He added: "We have excellent relationships with our fellow maritime patrol squadrons and we are glad to welcome our visitors to Moray."
The runway at Kinloss is to close to regular flying in July and the planned closure of the whole site as an air station is expected to be completed by 2014.
Fishing boat skippers and crews are being advised of live firing and warship activity ahead of Joint Warrior, which will run from 4-15 April.
Fishermen are given details on where training will take place as a matter of routine before any activities start.
Submarines, warships and aircraft are expected to hold live firing exercises off Cape Wrath in the Highlands.
Warships and submarines may also be operating in the Clyde, the Sea of Hebrides, the Little Minch, Loch Eribol and around the Western Isles, the Royal Navy has said in advice to fishing boat crews.
Royal Navy minesweepers HMS Bangor, HMS Ramsey, HMS Atherstone and HMS Quorn will be involved.
In February, HMS Quorn was given the freedom of Ipswich, the vessel's affiliated city.
Dutch minesweepers HNLMS Hellevoetsluis, HNLMS Vlaardingen and HNLMS Willemstad along with Norwegian vessels HNoMS Maaloey and HNoMS Otra are also expected to take part in the exercise.
The National Air Traffic Service (Nats) has also sent out an advisory warning that for set periods of time radio and GPS signals will be jammed in some areas where the exercise will be taking place.
Joint Warrior is held twice a year, with the second one running from 26 September to 21 October.
Forty aircraft and 39 naval units will be involved, along with troops from the Household Calvary Regiment and US Marine Corps.