Four people injured in bus crash near Boat of Garten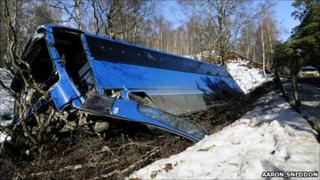 A bus driver and three passengers have been injured after their vehicle came off a road in the Highlands.
Police said the service bus was lying on its side on the A95 at Laggantygown Cemetery, near Boat of Garten. No other vehicle was involved.
Northern Constabulary described the injured as walking wounded and said they had suffered cuts and bruising.
The accident happened at about 1135 GMT. Emergency services were at the scene.