NHS Highland staff facing 'fuel poverty'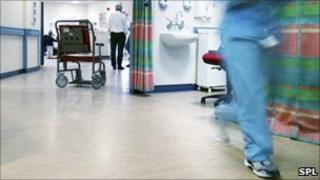 Many NHS Highland staff are in fuel poverty, according to the health board's energy and environment manager.
Gordon MacDonald said employees were spending more than 10% of their household income on domestic energy costs.
The Scottish government uses the 10% figure to measure whether a person is in fuel poverty.
NHS Highland staff work across the Highlands and also at sites in Argyll and Bute.
Mr MacDonald said: "Many of our staff are facing increasing energy costs - in excess of 10% of their salaries - bringing them into what the government calls fuel poverty.
"We need to signpost staff towards the help and support that is available, such as the Energy Saving Trust and local council support.
"Very often there are alternatives to their current situation and the help is freely available."
Biomass boiler
Mr MacDonald was commenting ahead of Climate Change Week events Caithness General Hospital in Wick, Raigmore Hospital in Inverness, Belford Hospital in Fort William and Lorn and the Isles Hospital in Oban.
As well as offering advice to staff on how to bring down household bills, the events will give information on greater energy efficiency at NHS sites.
NHS Highland said wasted energy cost it £500,000 per year.
In an effort to bring down costs, the health board leases low emission cars and plans to install a biomass boiler at Raigmore, which would stop two million litres of heating oil being burned every year at the hospital.