Scotland's Housing Expo 'should be held again'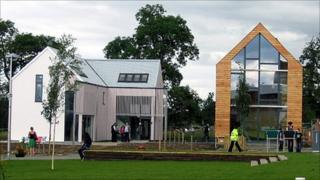 More exhibitions showcasing innovative architecture should be held in the future, according to a new book about the UK's first housing expo.
The Scotland's Housing Expo event was held in Inverness in August 2010 and had about 34,000 visitors.
It made a loss of £198,000 which will be covered by Highland Council.
Published on the Scottish government's website, the book charts the expo's successes and failures before concluding others should be staged.
The conclusion has been drawn from positive feedback from focus group meetings with architects and others who visited the site.
More than 77% of respondents to a questionnaire handed out at the event also said they would consider attending a future expo.
The book, called Scotland's Housing Expo 2010, includes chapters by architects and expo board chairwoman, Highland councillor Jean Urquhart.
Originally scheduled to be held in 2009, the exhibition of more than 50 properties was delayed until August 2010 because of the economic downturn.
But Ms Urquhart, a strong supporter of the project, recounts further challenges in the countdown to its opening.
She said: "Well do I remember a seminal moment when asking Susan Torrance of the Highland Housing Alliance if it really was possible to complete what should have been a 15-month work schedule, in less than eight.
"Her response was positive, with the proviso of a mild winter to allow for an intensive building programme.
"Milton of Leys, the selected site of the expo, which sat above the snow-line, suffered even more than the rest of Scotland, in the worst winter in 30 years."
Ms Urquhart added: "Throughout the following seven months we, the expo board, experienced more highs and lows than a snakes and ladders board.
"The risk register showed many greens, a few ambers and terrifyingly, one or two persistent reds.
"The days lengthened, the snow disappeared, the shapes and forms of houses miraculously appeared. Scotland's Housing Expo was indeed to become a reality."
The event opened on 1 August, but some of the houses and gardens were incomplete. A district heating scheme to serve the site had also been dropped.
In the introduction to the book, Housing Minister Alex Neil congratulates Highland Council and the Highland Housing Alliance for what the expo achieved.
He writes: "The aim of the expo was to showcase innovative, sustainable housing and placemaking to a wide audience and in doing so to help change attitudes towards house and place design.
"The expo goes a long way to demonstrate that by designing carefully for the specific site conditions, and making good use of what nature gives us, we can make much progress towards our objectives of reducing energy use in our housing."