Inverness police van involved in Telford Street crash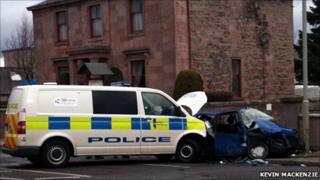 Six people, including two police officers and a pedestrian, have been caught up in a crash involving a police van and a car.
The collision happened in Telford Street in Inverness at about 0755 GMT.
The male pedestrian, who is in his 40s, was hit by the car and taken to hospital. The car's driver and two passengers were slightly injured.
Northern Constabulary said the police van did not collide with the pedestrian and had not been involved in a pursuit.
The two officers were not hurt but were taken to hospital for check ups.
Two people, aged 18 and a 19, were in the car.
They received treatment in hospital for minor injuries before being discharged.
A police spokesman said: "Officers are now investigating the circumstances of the collision.
"The man has been taken to Raigmore Hospital for treatment although his condition is not believed to be life-threatening."
He added: "As with all collisions involving police vehicles the matter will be fully investigated."
Both vehicles have been removed from the street.