Inverness sailor Stewart Graham to avoid Somali pirates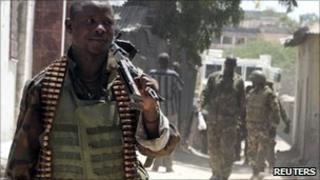 A Scottish businessman who broke his back in Malaysia is to resume his round-the-world sailing trip.
Stewart Graham, 46, who owns Inverness-based Gael Force, was injured after coming off a motor bike in February.
Following hospital treatment he and his wife Trish have been preparing to leave south east Asia and return to the UK.
However, they are having to sail an extra 9,000 miles to avoid running the risk of encountering pirates off Somalia.
The couple will take their yacht around the Cape of Good Hope rather than following a shorter route up the east African coast and through the Suez Canal.
Mr Graham said: "Since breaking my back seven weeks ago I underwent major surgery in Penang in Malaysia that saw two metal rods and eight screws being inserted into my spine to support my back and to aid the repair of the damage caused by the accident."
'Too high risk'
He added: "It's frustrating knowing that we are 4,000 miles from home but because of the high risks involved in sailing through 'pirate alley' we are in reality now 13,000 miles away.
"The route home through the Red Sea and the Suez Canal was our first choice but the risks associated with sailing past the coast of Somalia are simply too high risk.
"The journey home with a broken back is high risk enough and I'm not keen on adding Somali pirates to the mix."
As well as the threat from pirates, Somalia has been the scene of heavy fighting.
The African Union Mission peace keeping force has been helping the country's UN-backed government tackle Islamist militias.
Mr Graham has been sailing around the world with his wife Trish in their yacht for the past 18 months.
He is chairman of Gael Force, a company he founded in 1983 in Stornoway on Lewis.
Now based in Inverness, the firm employs 120 staff and supplies and manufactures equipment for maritime businesses, including fish farms.
Mr Graham started his business repairing lobster creels when he was a student at Lews Castle College in Stornoway.