Kilt makers monitor WTO hearing on EU sealskin ban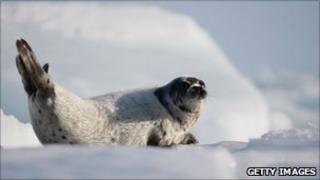 A hearing on the EU ban on trading seal pelts, a skin traditionally used for sporrans, has been secured by Canada.
The European Union introduced the ban in 2010 saying it met with its international obligations and also public concerns over animal cruelty.
A World Trade Organisation (WTO) dispute settlement body will hear Canada's grievance against the ban.
Ian Chisholm, an Inverness kilt maker, said his trade would be watching the new development with interest.
The WTO panel usually takes between 12 to 18 months to report its findings, according to Reuters who have reported the organisation's decision to hold a hearing.
Last year, it was suggested a loophole in the EU trade ban would provide kilt makers with sealskin for making sporrans.
The Inuit, indigenous people in the Arctic region of countries such as Canada, had argued the prohibition was detrimental to their traditional way of life.
An EU ruling temporarily exempted the Inuit from the effects of the ban.
Mr Chisholm told the BBC News Scotland website that the availability of skins for sporrans through the exemption had been too small.
He said kilt makers were using sealskins still held in stocks along with alternatives such as rabbit, cattle and ponies.
Exemption'not viable'
A former chairman of the Scottish Kilt Makers' Association, he said Canada's granting of a hearing would be discussed at a future meeting of the group.
He said: "There has effectively been a complete ban on sealskin.
"There was an angle through the exemption but the quantities were so small they weren't viable.
"A hearing would be very interesting for us and if the skins became available to the UK market that would help our business."
Mr Chisholm said sealskin has a quality and texture that complimented Highland dress.
European MPs voted in favour of a ban on the trade in seal products in May 2009 and the law came into force in August 2010.
The move followed a three-year campaign triggered by a public outcry at annual seal culls in Canada and Norway.