Newtonmore riding boss in horse protest over A9 works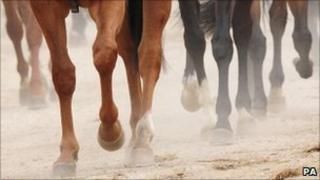 A riding centre boss has said he would ride his horse up and down road works on the A9 if a bridge or underpass was not added to the project.
Ruaridh Ormiston has previously spoken out about new dual carriageway being built at Crubenmore in the Highlands.
He said riders could safely cross the A9 to reach an old military road at the moment because the stretch was single carriageway.
Transport Scotland said there were safe crossing points north of Crubenmore.
Mr Ormiston has welcomed safety improvements being made to the A9, but he said a bridge or underpass should also be a feature of the project.
He said walkers, cyclists and horse riders have been able to cross the A9 to reach a stretch of Wade's Road, a military route built in the 1800s, and wanted to continue to do so.
Users of the Wade's Road are expected to start protests on 20 April and continue them until Transport Scotland commits to a crossing.
Mr Ormiston, who runs the Newtonmore Riding Centre, said: "If our protests are unsuccessful, I am quite prepared to drive up and down the A9 road works all summer with my horse and carriage to show my contempt."
Transport Scotland said the project had developed over four years and there had been the subject of extensive consultation.
A spokeswoman added: "The Crubenmore dualling scheme is designed to improve the operational performance and level of safety on the A9.
"There are safer crossing points to the north of Crubenmore."
She added: "Transport Scotland and the Cairngorms National Park Authority are working together to develop a safe access strategy to provide walkers, cyclists and equestrians with advice on suitable routes."