Men jailed for 'sadistic' two-day attack in Inverness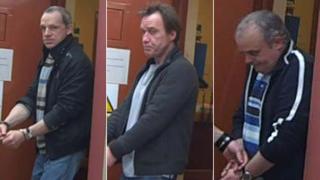 Three Inverness men have been jailed for carrying out a "sadistic" attack on a man wrongly accused of child abuse.
Robert MacNeil, 46, Robert Stewart, 45, and Gordon McInnes, 42, admitted assault at a house in the city in 2010.
The 39-year-old victim was hit by a baseball bat and knife, choked with a dog chain and sexually assaulted.
MacNeil was jailed for three years and seven months, Stewart for three years and eight months and McInnes was sentenced to three years and 10 months.
A fourth man, David Webb, 40, also from Inverness, was previously sentenced to five years in jail for his part in the attack, which was carried out over two days in February last year.
The court heard the victim - a 39-year-old man who cannot be named for legal reasons - had gone to the home of one of the men to collect a bag he had left there a few weeks earlier.
During the trial involving Webb, he said: "I was a little bit uncomfortable because they had been drinking and were being quite loud.
"Then Webb started saying stuff about me to the others. He told them that I interfered with children.
"I have no idea why he said it. I think it was to provoke some kind of violence."
The four men began punching and kicking the victim, with two of the attackers having a competition to see who could hit him the hardest.
The victim was also sexually assaulted with a bottle by Webb and urinated on by some of the attackers.
The court heard the attack lasted for several hours before the victim passed out on the couch. When he woke up the following morning, the attacks resumed.
The victim said: "Webb said to them that I had told him I would look after his daughter.
"He seem to be insinuating some kind of child abuse. Once he said that, the violence started again."
The man was repeatedly punched and kicked, beaten with a baseball bat and strangled with a dog chain.
When he was eventually told to leave, he went to a nearby house and the owner phoned an ambulance.
The victim said it took him nearly seven months to recover from his injuries.
'Multiple injuries'
He added that he suffered panic attacks and nightmares and did not leave his home for nearly two months.
Sheriff Margaret Neilson told the three men at Inverness Sheriff Court: "You have pled guilty to a disgusting, depraved and sadistic attack over two separate days.
"It is clear from the photos that the victims injuries were multiple and severe.
"It is clear the victim has been seriously traumatised by the assault and given the prolonged and sadistic nature it is not surprising."
The court was told all three attackers had alcohol problems and previous convictions.
Jailing them, Sheriff Neilson said: "It is difficult to imagine the terror and pain felt by the victim."