Highlands mental health group 'could help 50,000'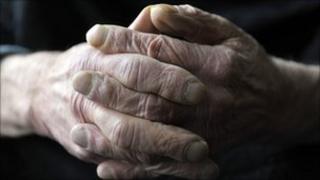 A Highland mental health support group could potentially be helping 50,000 people, according to one of its staff.
The Highland Users Group has 400 members.
But one of its workers, Graham Morgan, who has experienced mental health problems himself, believes it could be reaching tens of thousands of people.
Mr Morgan has told his story as part of a new section of the Healthtalkonline website, which is built around research by the University of Oxford.
The new section - Experiences of Psychosis - is in addition to existing areas covering illnesses such as cancer and features an introduction by comedian Jo Brand.
The project is supported by the UK government's Department of Health.
It also has interviews with people diagnosed with schizophrenia and psychosis at points in their lives.
Mr Morgan, from Nairn, is one of the interviewees and he has provided details of experiences with mental health and the medical profession.
On the Highland users group, which is separate organisation to the website, he said: "In Scottish terms we're seen as quite big, we've got 400 members, most of whom have had quite serious problems."
He estimated that in a Highland population of about 200,000, at least 50,000 people will encounter health problems at some time in their lives.
Mr Morgan added: "So we're a tiny, tiny group compared to the constituency we should be seeking out."
Other efforts have been made to support people with mental health problems in the Highlands and Islands.
Last year, events were held across the region as part of the Scottish Mental Health Festival.
'Too macho'
In 2008, a new website - believed to be the first of its kind in the world - was launched in an effort to prevent suicides in the Highlands.
Chooselife Highland hoped it would provide support to people who felt uncomfortable asking for help in a face-to-face situation.
In the same year, a conference looked at the health issues affecting groups of men who were reluctant to seek medical help.
Charity Men's Health Highland (MHH) organised the event, which heard some men felt they were "too macho" and did not need to see a doctor.
MHH held discussions on ways to help people who feel that they are sidelined because they are in prison, are gay, have a mental health problem, are homeless or are a member of an ethnic minority.
Highest spenders
Information gathered by a spending watchdog highlighted in 2009 a mixed picture on the provision of mental health services within NHS Highland.
Audit Scotland found waiting of between 58 and 77 weeks for psychological therapies to be among the longest in Scotland.
However, NHS Highland's spending on mental health services ranked with the highest in the country.
Expenditure of more than £150 per head was higher than in Grampian, Lothian, Fife, Forth Valley and Lanarkshire.
It was also among the highest spenders on adults with mental health needs in Scotland per head of population.