'Real-life Father Ted' series aids Barra tourism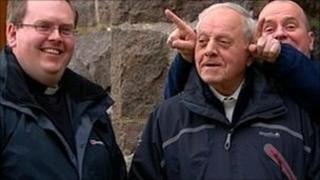 A factual series on the lives of three island priests dubbed the real-life Father Ted has been credited with boosting tourist visits to Barra.
Screened on BBC Two earlier this year, An Island Parish records new priest Father John Paul MacKinnon's arrival on the island in the Western Isles.
It also featured Father Roddy MacAulay and Father Calum MacLellan, 83.
Father John Paul said the series' characters and Barra's scenery had attracted new visitors to the isle.
He said: "The programme has just touched people's hearts.
"It has been full of characters, great weather and little stories. The island itself just draws people."
The priest added: "It is a small island but it has got a big heart and it has plenty of room for everybody."
Ahead of the series starting in January, producer Nigel Farrell said he was aware people would compare the programme with the Channel 4 comedy.
He told the Daily Record he was worried about viewers relating the three priests to the characters in Father Ted.
But he said Father John Paul was a fan of the comedy, which ended in 1998 following the death of its star Dermot Morgan.
Father Ted follows the fortunes of priests Jack Hackett, Ted Crilly and the younger Dougal McGuire on the fictional Craggy Island.