Downhill McAvalanche cycle race for Glencoe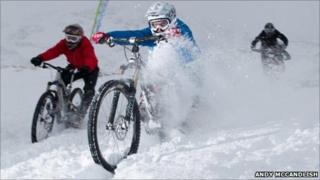 A select number of cyclists are to be taken by helicopter to the 1,108m (3,635ft) summit of a Scottish Munro before racing downhill.
Organisers expect 70 riders to race down the side of Meall a' Bhuiridh in Glencoe on Saturday.
Called McAvalanche, the event is based on Mega Avalanche downhill cycle races that have been held in the Alps.
Organisers No Fuss and Glencoe Mountain ski resort said stages of the course still had snow.
The race will cross ski tows and pistes and over rocky trails before reaching downhill mountain bike tracks further down the mountain.
Edinburgh-based stunt cyclist Danny MacAskill, who is originally from Skye, is among the riders selected to take part.
Test runs for the race were completed in the past few weeks.
The 70 riders were selected from a pool of 120.