Couple marry at Queen Mother's north home Castle of Mey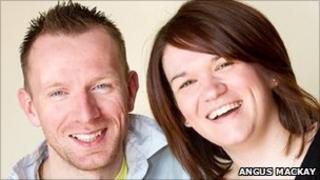 A couple will marry later at the Castle of Mey, the late Queen Mother's home in the Highlands on the same day as her great grandson's wedding.
Bride Jennifer Sutherland takes the royal links further as she attended St Andrews University at the same time as Prince William and Kate Middleton.
Miss Sutherland and groom Allan Paul, who live in Thurso, chose their date before the royal wedding was announced.
She said she would have watched the royal day if she had not been marrying.
Miss Sutherland attended St Andrews from 2002 until 2006, while Prince William and Miss Middleton were students between 2001 and 2005.
The prince had a class in the same building where Miss Sutherland studied.
Engaged at Christmas 2008, the Thurso couple arranged their wedding the following year and picked Castle of Mey because it offered something different from other venues they looked at.
The Queen Mother's grandson, Prince Charles, continues to regularly visit the castle and Caithness.
Meanwhile, the flypast at the royal wedding will be led by a pilot from the Highlands.
Wing Cdr Roddy Dennis, 40, who grew up in the Black Isle, near Inverness, has been tasked with making sure the selection of modern and vintage RAF aircraft fly over Buckingham Palace at precisely the right moment.