Redundancies at Highland's Scottish Provincial Press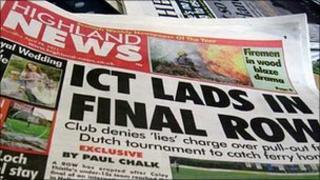 Privately-owned newspaper publishers Scottish Provincial Press has confirmed it has made a "small number" of redundancies to help cut costs.
Earlier this month, the Inverness-based company secured an £11m funding package from the Clydesdale Bank.
The publisher produces 15 weekly newspapers covering the Highlands, Moray and Banffshire.
Its titles include Scottish weekly newspaper of the year, the Highland News.
The Banffshire Journal, Forres Gazette, Inverness Courier, Northern Times and North Star are among its other newspapers.
Scottish Provincial Press also has two publishing divisions, New Century and Method Publishing.
A spokeswoman said: "Scottish Provincial Press are facing the same challenges as all newspaper publishers, with the difficult economic climate making it essential that we reduce our cost base.
"Our priority continues to be protecting the quality of the content of our award-winning newspapers and that, regrettably, means that we are having to review our structures in other areas, resulting in a small number of redundancies."