Downhill McAvalanche riders take part in Glencoe race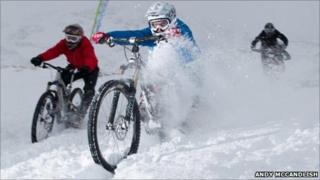 About 70 mountain bike riders have completed a downhill race after being taken by helicopter to the 1,108m (3,635ft) summit of a Scottish Munro.
Organisers selected the riders for the race down Meall a' Bhuiridh in Glencoe from a pool of 120.
Called McAvalanche, the event is based on Mega Avalanche downhill cycle races that have been held in the Alps.
Brother and sister Joe and Hannah Barnes took the male and female first prizes.
The event, the first of its kind in the UK, was organised by No Fuss and Glencoe Mountain ski resort.
The race crossed ski tows and pistes and passed over rocky trails before reaching downhill mountain bike tracks further down the mountain.
The riders began their ascents by helicopter at 1300 BST and the race started at 1530 BST.
Edinburgh-based stunt cyclist Danny MacAskill, who is originally from Skye, was among the riders selected to take part.