Voter trust is the big issue at Highland hustings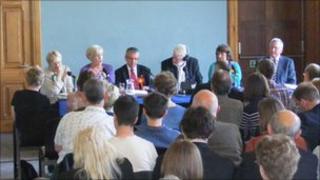 Politicians. They're not normally thought of as being the nation's agony aunts.
But this weekend, five of them were all to be seen rushing to the aid of a troubled voter.
The occasion was Radio Scotland's latest political hustings debate at Inverness's Eden Court Theatre where an audience of listeners and party supporters gathered to hear the arguments from across the Highlands and Islands.
And Stephen McCabe, a GP from Portree on the island of Skye, set them their toughest test.
In what can only be described a plea from the heart, he e-mailed the BBC asking: "Who do I vote for?" And that question, after several turbulent years for the nation's politicians, placed "trust" as the biggest issue of all for the electors.
The Liberal Democrats' candidate Christine Jardine dismissed suggestions that her party had lied about tuition fees south of the border. In Scotland, she said, the party has kept their promises, including the abolition of tuition fees in Scotland, which she describes as still " a line in the sand" for her party.
"Judge us," she told the audience, "on what we've done in Scotland." And she pledged that her party would fight for Northern Constabulary - and against a national police force, which she describes as "a nonsense".
Extra police
Fergus Ewing, who was minister for community safety in the last SNP government, conceded that "trust me, I'm a politician" was a difficult thesis to sell. But he dismisses challenges that his party got it wrong, in promoting an "arc of prosperity" that involved countries like Iceland and Ireland.
And he committed to a policy that will not see tuition fees during the next parliament, if the SNP win - and the thousand extra police officers recruited during the last parliament would not be cut, he said.
Gibes about the multiplicity of millionaires on the Conservative cabinet didn't move the Tories' Mary Scanlon. It doesn't matter if David Cameron is a millionaire, she said - he's not standing in Scotland. Trust Annabel Goldie, the party's Scottish leader, she says.
And she claims credit for at least half of the extra police officers. If you do a deal and you negotiate with the Tories, she says, they keep their word…..and they do what is right for Scotland.
The Greens too came under fire for policies which, it was suggested, could stagnate economic development in rural areas. Not so, says their co-convener Eleanor Scott, they have £18m in their budget to help rural areas. But on petrol prices, she says, we have to accept it - there will be no more cheap oil.
She says that to fight the effect that will have on areas like Highlands and Islands, the north needs better broadband speeds, less centralising and more investment in renewable energy.
Name check
Labour's David Stewart came under fire for the record of a Westminster government accused of wasting "the best opportunity in two generations to tackle inequality" and foisting the banks' debts onto the public to pay for.
But he points out that Labour brought in the minimum wage which particularly benefited those in the Highlands and Islands' low pay economy.
The living wage is the next generation, he says, and people should remember Labour saved the banking environment, when key Scottish banks could have gone to the wall.
The argument ranged far and wide, taking in petrol prices: police staffing: council tax against local income tax: independence referenda: and what happens when the oil runs out.
The usual suspects got a name check - but among the unexpected names to pop up were soup magnate Audrey Baxter, Westminster health secretary Andrew Lansley and former MSP John Farquhar Munro - who probably thought he'd retired.
The parties will have gone into the last few days of the campaign fresh from a debate that was both stimulating and sparky. They will all have their own views on who won the argument, of course.
But we may not ever know whether any of them helped Steven McCabe.