Call-out as MPs take evidence on coastguard changes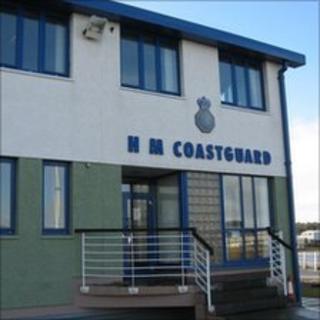 Stornoway's coastguard helicopter was called out while MPs were in the town taking evidence on proposed changes to the Maritime and Coastguard Agency.
The inquiry took place amid reports the UK government will drop some of the planned closures of coastguard stations around the UK.
Transport Secretary Philip Hammond told the BBC he was "looking again" at the proposals.
Stornoway's station is among those that could go or have its hours reduced.
The helicopter was scrambled about 20 minutes after the hearing started at 1100 BST.
The crew was asked to help police in a search for a missing man near Little Loch Broom, in Wester Ross.
The Transport Select Committee's visit to Stornoway was the latest in a series hearings held across the UK.
Comhairle nan Eilean Siar, Shetland Islands Council, Highland Council and Oil & Gas UK gave evidence.
'Very professional'
Following the hearing, Outer Hebrides Coastguard Task Group chairman Angus Campbell praised coastguard staff who also gave MPs their views.
Mr Campbell said: "The coastguards gave a very professional case as to why the Maritime and Coastguard Agency (MCA) proposals are wrong, basing their opposition on sound evidence.
"I would also thank the representatives from Shetland and Highland who also made very strong cases against the MCA plans which seriously increase the dangers for maritime users and the environment."
Under the plans, 10 of the UK's 18 round-the-clock coastguard centres could shut in an effort to reduce costs and modernise the service.
Five remaining sites will operate just during daylight, with the only 24-hour centres planned for Aberdeen, Dover and the Southampton/Portsmouth area.
The five daylight-only stations will be Swansea, Falmouth in Cornwall, Humber, either Belfast or Liverpool, and either Stornoway or Shetland.
Local knowledge
Critics of the plans argue the cuts will lead to a lack of local knowledge and may ultimately cost lives.
Mr Hammond told the BBC that the UK government had extended consultation on the plans to modernise the service.
He said: "We are looking again at the best configuration that will allow us to deliver those technological improvements, those working practice improvements and we will announce our conclusions to parliament before the summer recess.
"It's not about a U-turn, it's about deciding how best to implement what will be a very a big change in how the coastguard operates."
Sources have told the BBC that the government would still press ahead with the main thrust of its plans to have one or two large coastguard centres and fewer smaller stations around the country.