Highlands in 'energy revolution'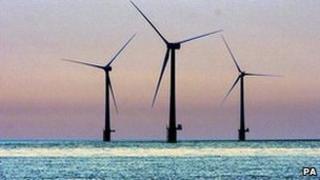 The Highlands and Islands are on the brink of an energy revolution, a senior enterprise figure has claimed.
Highland and Islands Enterprise's new director of energy, Calum Davidson, said the region was set to benefit from offshore renewables in the longer term.
But he warned there was no room for complacency, even though the region was at the forefront of marine energy developments.
He was speaking at the All-Energy Conference in Aberdeen.
Mr Davidson said: "The next ten years will see the installation of major offshore wind farms around Scotland, and an accelerating deployment of hundreds of wave and tidal devices in the seas around the Highlands and Islands.
"Ports and harbours, engineering and fabrication yards and companies across the region will all benefit from the huge investment needed to capture the power of the waves, tides and winds of the North of Scotland."
'Fast-moving sector'
Warning against complacency, Mr Davidson said it was a fast-moving sector and there were many other regions of the world looking at capturing the power of the waves and tides.
He added: "While the Highlands and Islands have some of the best natural resources, world-leading expertise and facilities, we must ensure that we stay in the lead and maximise the benefits this fast-emerging industry offers.
"We need careful and co-ordinated activity from all involved to make sure that as much as possible of the testing and deployment, manufacturing and fabrication, assembly and commissioning, and long-term operations and maintenance is embedded in the North of Scotland."
The All-Energy event at the Aberdeen Exhibition and Conference Centre has attracted more than 7,000 delegates from across the globe, as well as more than 500 exhibitors.