Coastguard 'not being devolved' says shipping minister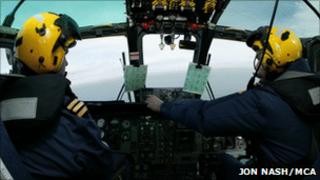 Shipping Minister Mike Penning has a rejected a suggestion Maritime and Coastguard (MCA) operations in Scotland could be devolved.
He told Westminster's transport committee that, like the British Army, the MCA was a national organisation and was recognised a such.
Mr Penning was answering a question from Tory MP Iain Stewart on whether parts of the MCA might be devolved.
But the Scottish government said devolution was the way forward.
The transport committee has been holding a series of hearings as part of an inquiry into proposed changes to the service.
Mr Penning said the MCA was world-renowned as a UK-wide organisation.
He said: "This is a national emergency service and the government have not looked at, and have no intention of looking at, breaking that up under the devolution settlement.
"The coastguard is seen as a national organisation and will go forward as one."
MCA chief executive Sir Alan Massey told the inquiry that for reasons of training and uniform it was important the MCA remained a national body.
A spokesman for the Scottish government said: "The government believes devolution of the Maritime Coastguard Agency offers the best chance of preserving the current life-saving service that coastal communities have come to depend on, and which are under threat in the current set-up.
"Cross border, and cross party, concern about the negative effects of current proposals, to life and the environment, reflects feelings of industry stakeholders and members of the public."