Scenic Isle of Skye road upgrade completed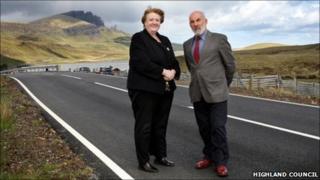 A single track road that gives views of the Old Man of Storr on Skye has been upgrade to a two-lane carriageway at a cost of £2.3m.
The stretch of A855 between Portree and Staffin was improved in three stages of construction work that was part funded by the European Union.
The improvements included the removal of a cattle grid and its replacement with several miles of fencing.
Thirty-five culverts were also built to channel streams under the road.
Construction teams worked in severe winter weather to complete the road outside the tourist season.
But two of the three companies contracted to do the work later hit financial difficulties.
Highland Quality Construction was placed into administration in June 2010, followed just months later by the collapse of Rok.
The final stage of the road project was completed by Wills Brothers.
A scheme that was available to crofters had provided the funding for the original single track road in the 1960s.
John Laing, chairman of Highland Council's transport environmental and community services committee, has welcomed the improvements.
He said: "This has proved an excellent scheme involving an innovative design to achieve value for money improvements, which are much appreciated in Skye and by visitors to this area of high scenic amenity.
"It will assist tourism and agriculture for the remote rural communities on the Trotternish Peninsula and encourage development in this part of Skye."
Highland Council has been successful with bids for European funding for three other road improvements - Drynie Hill in Ardnamurchan, Laxford Bridge in Sutherland and Strathconon in Wester Ross.