Musket ball at 'secret army' camp in Lochaber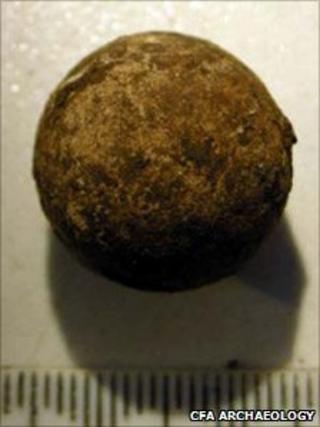 A musket ball has been found in a part of the Highlands with close links to Bonnie Prince Charlie which was later used for training secret agents.
Archaeologists said the find at Lochailort in Lochaber was post medieval and it would be sent to the Royal Armouries in Leeds for analysis.
Prince Charles Edward Stewart fled Scotland from nearby Loch nan Uamh.
Spent bullets thought to date from Lochailort's use as a camp during World War II have also been uncovered.
Mussleburgh-based CFA Archaeology carried out a metal detector survey of the site in March this year.
The work was commissioned by salmon farming company Marine Harvest which plans to develop the area.
CFA Archaeology's report on the survey has been uploaded on to Highland Council's Historic Environment Record database.
The lead musket ball and 84 spent bullets were among 296 metallic objects detected by the archaeologists.
Experts at the Royal Armouries, which holds the UK's national collection of arms and armour, will be asked to examine the musket ball.
At the moment it is not known from what period the lead ball dates from.
Evidence of more peaceful activities in the area were also found, including part of a ploughshare.
Sabotage missions
In its report, CFA said: "The largest single group of objects recovered were empty bullet casings of 19th/20th Century date from the use of the area as a military camp.
"Only one item could be assigned an earlier date than the military camp, a lead musket ball of post medieval date.
"Given the site's use during the modern period, the quantity of bullets and other finds of a possible military nature is not unexpected."
Lochailort is close to two lochs that played key roles in the rise and fall of 1745 Jacobite rebellion.
Bonnie Prince Charlie's standard was raised at Glenfinnan following his landing on mainland Scotland in August 1745.
Following his defeat at the Battle of Culloden in April 1746, the prince returned to the area and fled to France from Loch nan Uamh.
During World War II, members of Winston Churchill's "secret army", the Special Operations Executive (SOE), were believed to have trained at Lochailort.
Nearby Inverailort House was taken over by the military in 1940 for use as an SOE training base.
Churchill ordered SOE agents to "set Europe ablaze" with daring assassination and sabotage missions.
Commandos also trained in Lochber in war-time.