'Largest' habitat project begins in Coigach and Assynt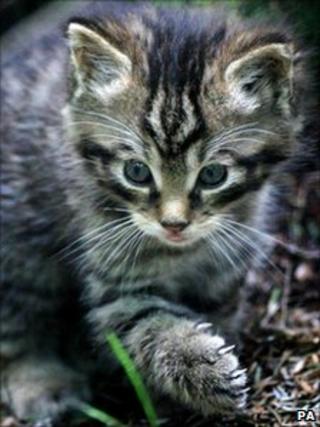 An area of the north west Highlands is the focus of what has been described as Scotland's largest habitat conservation project.
Landscape charity the John Muir Trust is working with several landowners to protect and restore habitat across 172,973 acres (70,000 hectares).
Wildcats, golden eagles and freshwater pearl mussels are some of the species that could benefit.
The project covers the Coigach and Assynt area north of Ullapool.
Assynt Foundation, Culag Community Woodland Trust, Eisg Brachaid Estate, residents of Tanera Mor in the nearby Summer Isles and the Scottish Wildlife Trust are involved.
The project has been in development since October 2009.
Stuart Brooks, chief executive of the John Muir Trust, said the landscape covered was world class and attracted thousands of visitors, including hillwalkers and anglers.
He added: "There is a lot we can do as individual landowners to improve the landscape, and by pooling our expertise and resources through this partnership we hope to be able to achieve even more."
Mark Snowdon, of Culag Community Woodland Trust, said the project's social and ecological objectives were ambitious.
Jonny Hughes, the Scottish Wildlife Trust's director of conservation, added: "A great variety of wildlife currently ghettoised in fragmented habitats stands to benefit from this partnership.
"By working together to see the bigger picture and breathe new life and connectivity into the ecosystems of Coigach and Assynt, globally rare species will be given a chance to increase in number and thrive once more."
He added: "Key species set to benefit from this project encompass a wealth of biodiversity, including Scottish wood ants to iconic golden eagles, and important habitats such as carbon-storing peatlands and rare Atlantic oak woods."
Mr Hughes said input from local communities was vital to the project's success.