Estate owner challenges Dundonnell eco-lodge project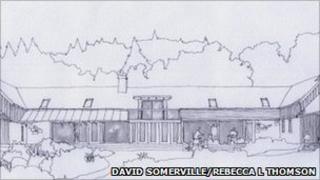 A Highlands estate owner has taken legal action against the developers of a planned new holiday eco-lodge.
Highland Council gave Escape Lodge planning permission in September 2010 for the property and eight thatched houses at Dundonnell in Wester Ross.
But Gordon Crawford, who owns the neighbouring Eilean Darach estate, said it would affect water supply and drainage on his land.
He has taken out an interdict at the Court of Session challenging the plans.
Ullapool-based businesswoman Becky Thomson, who is leading the eco-lodge project, said it would cost her company thousands of pounds to defend the action.
She added: "It is unlikely that our private backers will consider getting involved in a project that has this threat hanging over it."
The eight bothies proposed in the project would be built by hand as a visitor activity using thatch and stone walling skills.
In a statement, Mr Crawford said the legal action was a technical matter about water supply and drainage on his land.
He said he felt that Highland Council had not properly addressed his concerns during the planning process.
Members of the local authority's Ross, Skye and Lochaber planning applications committee visited the site ahead of making a decision on the project.
Council officers had recommended approval for the plans.