Conformist moth trapped in Strathspey Scottish 'first'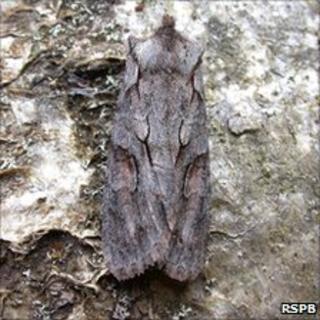 A species of moth has been recorded for the first time in Scotland, according to RSPB Scotland.
Entomologists from England found the Conformist moth in a light-trap they had set up on the RSPB's Insh Marshes nature reserve in Strathspey.
The insect was one of two "races", or sub species, of Conformist known as furcifera.
Since 1946, it has only previously been recorded in the UK once - in Northumberland in 2007.
The other sub species of Conformist, called suffusa, is believed to be extinct in the UK with the last recording of it made in Glamorgan, Wales, in 1959.
The Strathspey find is the first recording of any type of the moth in Scotland.
RSPB warden Pete Moore, who is also the official moth recorder for east Inverness-shire, said Insh Marshes was a haven for rare insects.
He said: "Last year we were surprised to discover a colony of the very scarce dark bordered beauty moth on the reserve.
"And, currently, we are running a project to increase the numbers of another very rare insect - the aspen hoverfly.
"I wonder what we will find next."