Cardinal O'Brien visits 'Presbyterian' isle's parish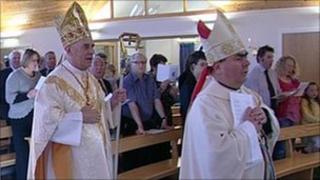 The first Roman Catholic cardinal to visit the traditionally Presbyterian island of Lewis has conducted a mass to celebrate 50 years of the local parish.
Cardinal Keith O'Brien joined Bishop Joseph Toal, who heads the Argyll and the Isles diocese, and local priest Father Roddy Johnston for the mass.
The church was opened in 1961 to serve the Catholic congregation, which had existed on the island for many years.
Cardinal O'Brien has also met with local priests.
He said: "Being with my own Catholic Christian community for that wonderful celebration of thanksgiving after 50 years of their parish is just so reassuring.
"It was just a great occasion."
The parish's Holy Redeemer Church in Stornoway, on Lewis, opened in 1961.
Before the church, the Catholic congregation met in a cafe run by an Italian family and later a former military building.