Highland Council classroom assistant job cuts delayed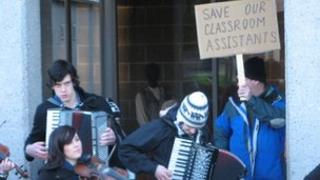 Highland Council has delayed until next year a move to end 344 classroom assistant posts and replace them with a lower number of learning support jobs.
The local authority said the action was not now likely to happen at least until August 2012.
The ruling Liberal Democrat, Labour and Independent administration has denied SNP accusations that they had made a u-turn on the cost-cutting move.
A cross-party working group was set up to look at the proposal.
When details of the cuts first emerged earlier this year, some parents on Skye took their children out of school early in protest at the move.
A demonstration was also staged outside Highland Council's headquarters in February.