Castaway island of Taransay sold to landowning family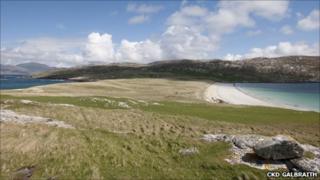 A tiny island in the Western Isles that featured in the BBC reality television series Castaway has been sold for an undisclosed sum.
Taransay, which lies off Harris, had an asking price of £2m or above.
Selling agents CKD Galbraith have not named the new owners but said they already owned property on Harris.
Ben Fogle, one of a group of people who lived on the island for Castaway in 2000, had been leading a bid to buy Taransay.
CKD Galbraith said the island's owners knew the purchasers and the island was passing into "safe hands".
The firm's John Bound added: "There will no doubt be a number of disappointed parties who would have liked to bid but it is fitting that Taransay is now in the new ownership of somebody closely acquainted to the area who will preserve the current management of the island."
Taransay offers trout and sea fishing and deer stalking. The island also has a sheep farm.
The island is said to be home of Celtic pagans in 300AD and was the site of several fierce battles, such as the Massacre of Taransay in 1544 when the Morrisons of Lewis invaded.