Nasa could help map Scotland's seaweed resources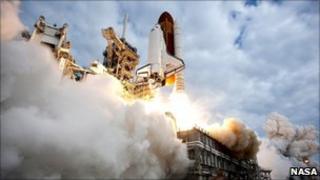 Nasa could help assess Scotland's resources of seaweed for use in heating and fuel, according to a new report.
Its authors have suggested satellite information gathered by the US space agency of sea and coastline would be helpful in giving "robust estimates".
The report, Mapping the Intertidal Seaweed Resources of the Outer Hebrides, looked at where knotted wrack could be harvested.
Lewis was identified as offering the largest quantities of the seaweed.
North Uist had the next best percentage of knotted wrack for harvesting, followed by South Uist and Harris. The reported suggested Barra offered very little.
The report was put together by the Scottish Association for Marine Science and Hebridean Seaweed Company.
Highland and Islands Enterprise (HIE) and Scottish Enterprise co-funded the research.
The researchers said Nasa, along with other agencies, could provide satellite information on the condition of the UK coastline and sea temperature and clarity.
Information from the space agency was not used for the report, which has been published on HIE's website.
'Negative impact'
A barrier to sustainable seaweed harvesting was people and businesses taking so much weed it would be unable to recover, the report said.
It also said landowners on the Western Isles raised a variety of opinions about the prospect of seaweed harvesting.
The report's authors said: "Some did not want to see neighbouring coastlines as the focus of commercial harvesting efforts and were concerned that such harvesting would have a negative impact on marine life.
"Stakeholders wanted to be assured that the relevant regulatory agencies were fully involved in any plans to harvest weed, as well as all of their tenants. And that existing protection measures such as Special Protected Areas for birds were fully respected and considered.
"Other local business owners were less concerned and welcomed the prospect of the development of any projects that could create long-term employment in the Outer Hebrides."