Mallaig lifeboat crew honoured for rescue off Rum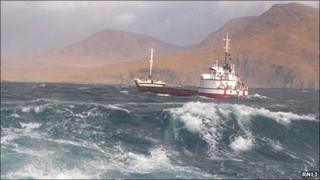 A lifeboat crew has been recognised for its efforts to prevent a broken down cargo ship from going aground on Rum.
Michael Ian Currie, Hugh Cameron, Kevin MacDonell, Stuart Griffin, Angus McLean and Cameron Sangan went to the aid of the Red Duchess in November 2010.
The Mallaig crew set up a tow to stop the ship and its cargo of coal from striking rocks and causing an environmental incident.
They have received letters of thanks from RNLI chiefs.
The rescue on 2 November took place during gale force winds.
An evacuation of the coaster's six-strong crew was too dangerous and the lifeboat crew set up a tow until the Maritime and Coastguard Agency's tug, Anglian Prince, arrived six hours later.
Paul Jennings, the RNLI's acting divisional inspector for Scotland, praised the crew for its actions.
He said to keep the larger and heavier vessel under tow in severe conditions had required determination and sheer concentration.
The Red Duchess had suffered engine failure and was being battered by wind and waves.