Crash survivor Sandy MacPhee from Skye in 150-mile hike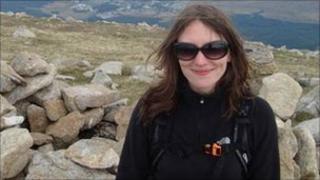 A woman who lost her unborn baby in a crash caused by another motorist's dangerous driving is to raise money for the hospital where she was treated.
Alexandrina MacPhee, 31, also known as Sandy, from Orbost on Skye, suffered serious injuries in the crash at A82 at Lochend, near Inverness, in June 2010.
She had tried to avoid colliding with a car driven by Dmitry Lipkin, 31, as he overtook three vehicles.
Ms MacPhee's three-week hike is in aid of Raigmore Hospital in Inverness.
Starting on Saturday and accompanied by her boyfriend, Hector, she will walk about 150 miles (241km) from Orbost to Inverness.
She plans to tackle 23 Munros, including summits on the Cuillin Ridge, the Five Sisters of Kintail and the Carn Eighe Ridge on the way.
Money raised through sponsorship will be used to purchase specialist equipment for the departments at Raigmore Hospital that took care of her.
Ms MacPhee was 11 weeks pregnant at the time of the crash.
She said: "In June last year I set off from my home in Orbost to attend a check-up appointment with a midwife at Raigmore Hospital.
"At Lochend, only six miles from Inverness, I was in a head-on collision with a foreign driver who had been attempting a dangerous over-take as he approached a corner."
Thrown from her vehicle, the accident caused her to miscarry and left her with six breaks and fractures to her pelvis.
She spent seven-and-a-half weeks bed-bound in Ward 3C of Raigmore.
Ms MacPhee said: "Three days before I was allowed home, I edged my legs over the side of the bed for the first time and managed a couple of shaky steps on a Zimmer-frame.
"Within a month I had mastered what became known as the 'crutch lope', and by December I was down to one walking stick.
"Fuelling my progress was a determination, not only to walk unaided again as soon as possible, but to see through a plan that was forming to say thank you to the staff whose incredible work and endless compassion saved my life and my sanity countless times during those first weeks after the crash."
'Serious consequences'
Lipkin, a lawyer from Russia, admitted driving dangerously and was fined £3,300 at Inverness Sheriff Court last year.
He was also banned from driving for two years.
Solicitor Craig Wood told the court his client was "extremely remorseful" about the crash.
Sheriff Margaret Neilson told Lipkin: "You caused an accident which had very serious consequences, consequences which you will have to live with for the rest of your life."
While trying to avoid a collision, Mrs MacPhee braked, causing her Peugeot 307 to skid and spin, before crashing into Lipkin's sports car.
She was flown to Raigmore where she later found out that she had lost her unborn baby.
Another motorist caught up in the crash was slightly injured.
Lipkin suffered cuts to his fingers.