Ceilidh on Aonach Mor plugs outdoor breaks in Lochaber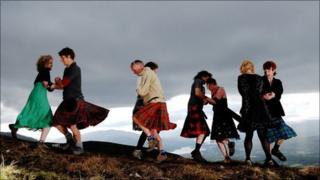 A ceilidh has been held overnight on the summit of a Scottish mountain to launch holiday breaks dubbed ActiVacations for outdoors enthusiasts.
Fort William community company, Outdoor Capital of the UK, staged the dancing on Aonach Mor in Lochaber until first light on Tuesday, the longest day.
ActiVacations, a variation on staycations, have been aimed at climbers, cyclists and kayakers.
Outdoor Capital of the UK promotes Fort William and Lochaber.
The company's previous initiatives include getting some of Scotland's leading extreme sportsmen to dress up as veteran broadcaster Sir Jimmy Savile.
In a promotional video, the five are seen performing stunts on a bike, canoe, skis and ice climbing.
They include Edinburgh-based Danny MacAskill and mountaineer Mike Pescod.
Sir Jimmy, a regular visitor to the Highlands, introduces each of the clips.