Fort William given new beach by shifting sand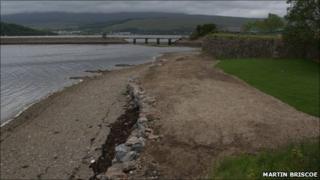 Fort William now has a sandy beach after volunteers and community service workers cleared an area of shoreline and brought in tonnes of sand.
The project was the first stage in a plan which could see a much larger area of beach for families and tourists created around the bay of Loch Linnhe.
Hundreds of tonnes of sand were moved from another part of the sea loch and deposited above the high tide mark.
Previously the area was a litter-strewn eyesore.
Measures have been put in place to protect the sand from being washed away by rough seas or heavy rain.
The beach lies close to the remains of a military fort which gave the town its name.
Organisers of the town's new feature hope it will attract more visitors to the fort.