'East-west divide' in wild salmon catches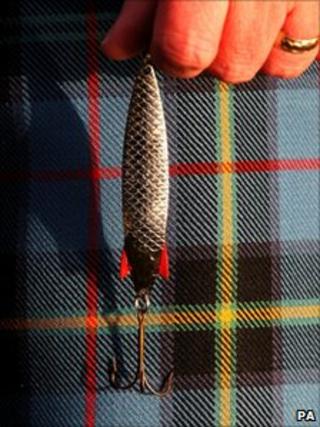 Fewer wild salmon have been caught by rod on Scotland's west coast than on the east, a study by angling associations has suggested.
They said that between 1970 and 2009, catches in the west had declined by 42% but increased by 38% in the east.
The bodies, including the Rivers and Fisheries Trusts of Scotland, said fish farming was a factor behind the fall.
Scottish Salmon Producers' Organisation research has suggested there was no difference in declines on the coasts.
The west of Scotland has large numbers of salmon farms, while the east has none.
The SSPO study, Salmon Farming and Wild Salmon Catches, prompted the analysis of official data by the angling groups.
The SSPO looked at wild salmon caught by net as well as rod, while the Rivers and Fisheries Trusts of Scotland (Rafts), Association of Salmon Fishery Boards, Salmon and Trout Association and Fish Legal focussed on rod catches.
Rafts said it agreed with the SSPO that climatic and ocean current changes had reduced the chances of salmon survival during their migration phase at sea.
However, the Rafts study has concluded there was a "clear trend" of falling wild salmon catches in the west, where there were salmon farms.
'Wholly irrational'
The report's author Roger Brook, of Rafts, said the groups recognised the economic importance of the aquaculture industry.
He added: "However, there are problems and there have been and continue to be impacts upon wild fish catches and stocks in the areas where the aquaculture industry is most active."
Mr Brook said the groups wanted the industry to acknowledge the problems and to work with them on finding solutions.
SSPO chairman Prof Phil Thomas said wild fish had declined at the same rates on both coasts and said for the groups to only take salmon caught by rod into account was "wholly irrational".
He said: "Game fishing is fundamentally unsustainable, unless carefully managed."
Prof Thomas said the groups should be campaigning for conservation catch limits for all rivers and limiting fishing where stocks were below a sustainable level.
He also said that they should collect "proper statistics" on river habitat management and consider a rational policy on stock enhancement to maintain, or restore, stock levels.