Cioch Direct in Cuillin hills on Skye a 'no-go area'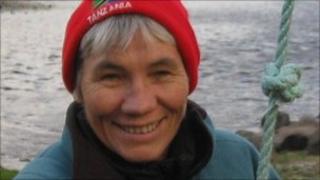 Climbers have been warned to avoid a climbing route on Skye where a woman was killed and three people were injured in a rockfall in May.
Skye Mountain Rescue Team said there was the risk of further rockfalls at the Cioch Direct in the Cuillin hills.
The warning has been highlighted by the Mountaineering Council of Scotland. Efforts are to be made to clear large blocks from the popular route.
Tessa Cousins, 56, from South Africa, died in last month's incident.
On its website the mountaineering council said: "Climbers should be aware that the start of the third pitch is still in a very unstable condition and further rockfalls are imminent.
"In conjunction with Northern Constabulary, Skye MRT is issuing a warning that Cioch Direct should be regarded as a no-go area until the large blocks have been removed."