Fast boats team led by Pete Goss in Arctic Circle bid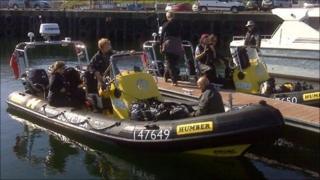 A team led by Cornish-based sailor and adventurer Pete Goss are trying to reach the Arctic Circle in two fast boats after leaving from Wick on the Caithness coast.
It is the first time the journey has been attempted in rigid inflatable boats and the route will include stopovers along the Norwegian coast.
The Ribs to the Limit challenge team is made up of seven men and one woman.
Solo sailor Goss is heading up the venture.
In 2000, he skippered a £4.5m vessel which got into difficulty and broke up in the Atlantic.
Some of the wreckage from the superyacht was found off Shetland.