Dornoch cat caught in 'illegally set' trap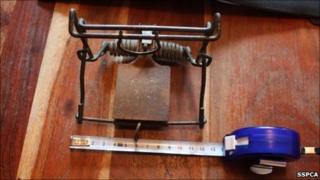 A cat is thought to have been caught for four days in an illegally set trap, according to animal welfare officers.
The Scottish SPCA (SSPCA) said Mila was dehydrated and may have suffered nerve damage to a left leg.
She was found by her owner in Dornoch, Sutherland, hiding in a neighbour's garden.
The SSPCA said the animal trap was legal, but may have been illegally set because it should have been fixed down on the ground stopping it from moving.
Chief Superintendent Mike Flynn said: "We think she tried to make her way home after she was trapped and hid in a nearby garden.
"Amazingly, Mila did not suffer any broken bones or serious injury.
"However, she was in a lot of pain and very distressed."
The cat has been treated by a local vet.