Artists paint John O'Groats Hotel ahead of revamp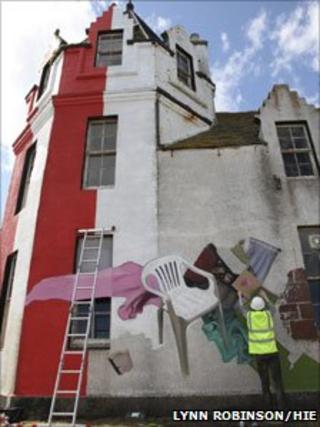 A hotel in John O'Groats has become the focus of the Highlands' biggest street art project.
The 19th Century John O'Groats Hotel is being painted by a group of artists before the property is redeveloped.
The revamp forms part of a wider project to upgrade and improve the village.
Highlands and Islands Enterprise (HIE) announced in March a commitment of £1.8m towards revitalising John O'Groats.
From autumn, the derelict John O'Groats hotel will be redeveloped and turfed roof lodges will be built nearby in the first phase of improvements.
Revamps of the LastHouseMuseum and Journey's End Cafe are also included in the initial stage of planned work.
Three other phases of upgrades and redevelopment will follow, with the overall project running to £6m.
The hotel was built on a site which was once occupied by a 15th Century Dutch ferryman called Jan de Groot.
His name, and also his payment for ferry crossings to Orkney in coins called groats, led to the village getting its name.
Fin Macrae, one of the artists working on the street art project, said: "John O'Groats is part of our national psyche - it exists together with Loch Ness, the Forth Railway Bridge and Gretna Green as iconic places in Scotland.
"It is a place I associate with my childhood - we want to bring something of that childlike excitement and wonder back there of holidays, destinations, journeys and travel."