French road boss caused Lancashire bikers' deaths on A9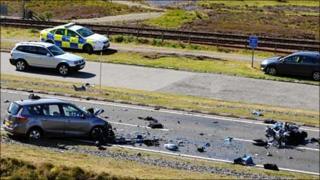 A man who admitted causing the deaths of a couple by driving on the wrong side of the road has been fined £3,000.
Roland Bayon, 61, was on holiday from France when he smashed into the couple's motorbike on the A9 near Dalwhinnie in the Highlands in 2010.
Peter Corris, 54, and his wife Jacqueline, 53, from Leyland, Lancashire, were also on holiday.
Inverness Sheriff Court heard Bayon had worked in road safety for a French town's local authority.
He was sentenced following an appearance at the court earlier this week when he admitted causing the deaths of Mr and Mrs Corris by driving carelessly on 29 August last year.
Bayon admitted driving on the wrong side of the road in the face of oncoming traffic and in the path of the Corris's Harley Davidson.
As well as the fine he was banned from driving for two years.
The couple were thrown from their bike and died of their injuries at the scene.
The court heard that Bayon, of Bourge De Peage, mistakenly believed he was still on dual carriageway.
Defence counsel Barry Smith said his client had been left devastated by the consequences of the crash.
He said: "I am instructed to tender formally in this court his most sincere condolences to the family of Mr and Mrs Corris.
"He was employed by his local authority in a town the size of Inverness and was in charge of roads. With tragic irony he had responsibility for road safety."
Mr Smith said there was no question of speeding by Bayon, a first offender with a clean licence from 1969.
He added: "At the time he saw the motorcycle it was simply too late to avoid a collision."
'First grandchild'
Sheriff Susan Raeburn said Bayon's driving had not been affected by drink, drugs or excessive speed.
But she said: "Tragically the standard of your driving brought about the death of a loving couple who were looking forward to the birth of their first grandchild.
"The relatives of Mr and Mrs Corris are understandably devastated by their loss. Their lives will never be the same again.
"There is nothing I can say or do this afternoon to restore to the Corris family their loved ones."
Sheriff Raeburn added: "It appears you are distressed and traumatised by the consequences of your driving.
"The stretch of the A9 where the accident happened is known to be difficult. Your reactions when trying to avoid a collision were immediate."